Wholesale Business for Sale in Colville
This is a home based business that can be operated from anywhere in the world. It has excellent growth potential. We broker fresh cut flowers from growers in Ecuador, California, Hawaii and Holland to florists in the US. Flowers are shipped from the farm to the customer via FedEx. We take title, invoice the customers and pay the growers but do not handle the flowers. My wife and I have been maintaining this sales level with 20-30 hours work per week.
Type of business: wholesale, distribution
My wife and I have operated this business from our home since 1986. At the time, the grower to florist supply chain in the US was dominated by local flower wholesalers in each city who purchased and shipped by truck from California growers. They inventoried the flowers in their warehouses and sold to local florists. Our business model utilized FedEx to bypass the wholesaler and ship directly from the farm to the customer. We were able to do this competitively because of volume discount rates with FedEx. Our product arrived significantly fresher. We continue with this same business model although we have expanded the number of sourcing locations to include Latin America, Holland and Hawaii.

We initially hired 2 sales persons and our sales peaked at just under a million dollars in the 1990's but margins were too low. In 1999 we moved to Washington state for the benefit of our family and the size of the business declined to about 400,000 but with improved margins. My wife and I operated the business by ourselves from that point on. We wanted to limit our time involved in business.

Our business model remains very competitive and expandable with modest effort. We have stable supplies of high quality flowers from reliable growers...farms we have worked with for many years.

We have approximately 27 customers who are medium sized florists around the country. Our top 4 customers do 60% of our business. 2 of those customers have been with us for over 20 years and the other two over 5 years. The primary benefits that keeps our customers with us are high quality product and professional, personal service. Our relationship with the customers is also very important as our customers are mostly family businesses. You get to know your customers since you are talking with them at least once per week. Sales are characterized primarily by standing orders and regular weekly purchases from each customer. Customer attrition is very low.

For the past 10 years I have done very little to build the business so sales have been in a slight decline (4% in 2019). Growth would be relatively easy through the use of websites and social media as well as with phone call prospecting with which we built the business. While I have a website we have not invested the time and money to make it very productive. I have not developed social media skills.

The market is unlimited. There are 30,000 florists in the US, easily half of which fit our target customer profile. Additional target customers are event planners and high end boutique supermarkets. One of our largest customers is a high end super market (three stores). We have several event planners that call us for their floral needs.

Also, with better marketing and focused sales efforts the current customer base could be persuaded to purchase a larger range of flowers from us.

Roses (primarily from Ecuador) comprise 45% of our sales. The other 55% are comprised of mums, lilies, alstroemeria, carnations and miscellaneous flowers. I have focused more recently on the Ecuador rose business because of the consistent quality of the farms we are working with, the higher profitability per order and the tendency of customers to have standing orders.

The sales year is punctuated by two main holidays: Valentines and Mother's Day. The months they fall in, February and May, generate about twice the sales volume of an average month.
Asking price
I and the seller will have to engage an accountant to determine the best mutually beneficial purchase plan.
Key financial facts and forecast
When the company transfers ownership there will be no debt. If the new owner continues to conduct the business in maintenance mode as we have for the past 10 years, it should continue at the same level of sales and profitability indefinitely. If the buyer invests time and effort into sales and marketing, the sales can grow indefinitely.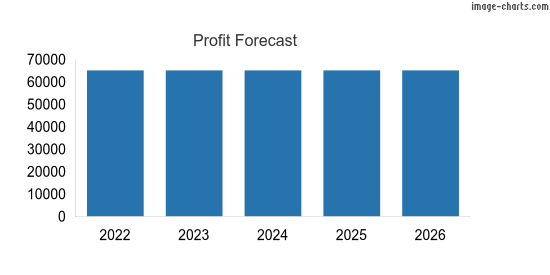 Pictured above: Profit Forecast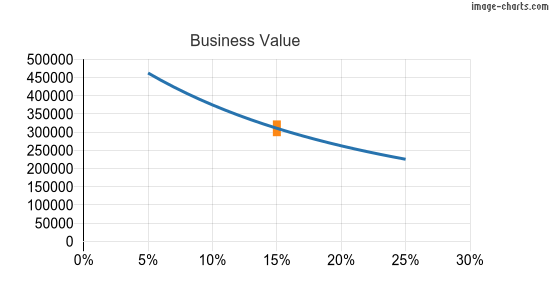 Pictured above: Business Value graphed against Cost of Equity
Reason for selling
We are beyond retirement age. It is time.
Required buyer qualifications
A mature business owner with prior experience in sales and customer interaction is necessary. Although the time required to maintain this business is low, it is not an internet business that runs it self. You must be proactive in getting to know the customer and their needs.

If a cash sale is not in our best interest then a significant down payment and solid financial support would be required.
Category: Business | Wholesale
Updated on


Located in Colville, Washington, US