There are many crucial steps to selling a business, whether you're looking to sell to national or international buyers. But while you're caught up in all the preparation and valuation processes, you don't want to forget about the importance of marketing your company, both to buyers in order to reach them, and to customers in order to build a more valuable business in the eyes of the potential buyer.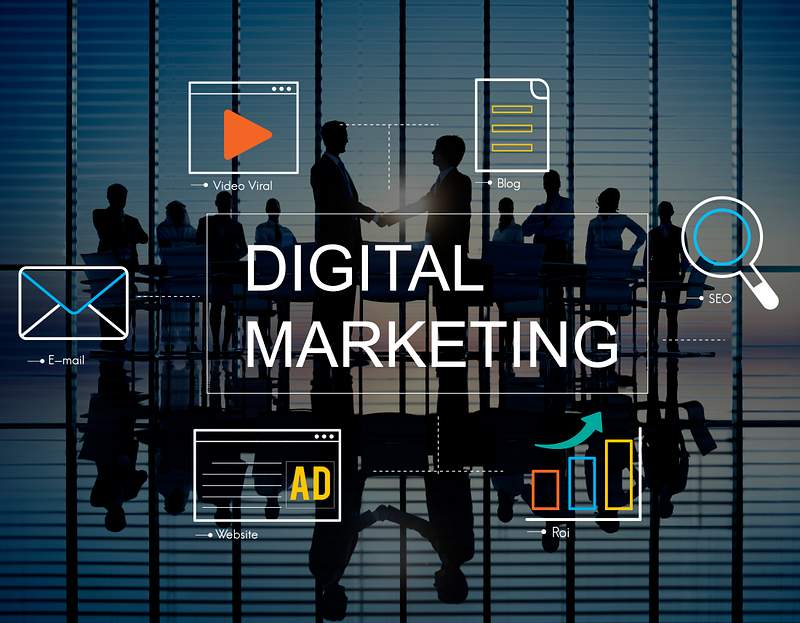 Digital marketing is, of course, much more cost-effective than traditional marketing, so it's important to focus on online marketing channels that will bring visibility, awareness, and engagement to your brand.
Digital marketing tools for selling a business "by owner":
Digital marketing can add value to your business in many ways, but while it might seem like an unnecessary expense when you're running your small business, remember that it becomes a necessity when you're trying to sell. You want to boost its value as much as possible, both the real and the perceived value in order to sell to the highest bidder. To do that, the potential buyer needs to see that they're buying a well-established brand in the online world.
Let's expand on all of this a bit further and take a look at the digital marketing tactics that will add value to your business when you're looking to sell.
Investing in a high-performing website
Digital marketing starts with good website design, and you can't hope to sell your business without a decent online presentation. Your website is your brand's identity and storefront, it will tell the story of your company and influence the buyer's mindset in a big way, so all the more reason to revamp your old site before going to market.
Your focus should be to invest in a modern website design that focuses on UI and UX elements, and presents a contemporary look and feel. After all, nobody wants to do business with an outdated brand, and a buyer might not realize the potential of your company if the visual experience is subpar. What's more, if you revamp the site, there's minimal work that the new owner will need to do once they purchase your business.
Building an online community for social proof
Social proof is a crucial indicator of a company's potential in the local and international marketplace, because consumers base their decisions on the decisions of their peers. This means that the more people buy from you or have positive interactions with your brand, the higher the chances that you will gain new customers organically. Building social proof in the online world should be one of the key objectives for any business in any industry, and it can help you sell your business faster and for a higher price.
Social proof works for buyers much like it works for customers, and you want the potential buyers to see that people are engaging with your business, and that they have a positive brand experience. With that in mind, start building an online community.
Your goal should be to establish a presence on all social channels, relevant forums, and other authority websites through interviews and guest posts. Then, engage with your audience in the comments, pose interesting questions, and kick-start meaningful conversations across the web. Get people to talk about and with your company, and show the buyers that your company is alive.
Localized SEO for visibility and buyer awareness
Search engine optimization is one of the most important digital marketing tactics and an essential element of any digital marketing strategy. Without investing in SEO, you cannot hope to get your company on the digital map or improve your brand's awareness locally or internationally. But when you're trying to sell a business, SEO might prove crucial in reaching the right buyers. Trying to sell your business to buyers across the world will require you to invest in local search engine optimization.
In a highly competitive market like Australia, for example, it's important to localize your SEO for the market where you're trying to sell. So, for Brisbane, you would need to invest in SEO for Brisbane and the surrounding area, so that you don't rank high in the areas where you're not looking for buyers. The same goes for any other city in such a vast country, and you need to use this mindset whether you're selling in the Americas, Australia, Europe, or anywhere else in the world.
Getting your brand in front of the right buyers around the world is essential, which makes SEO one of your top priorities during this period.
Crafting quality content to educate and inspire
SEO and content marketing go hand in hand as the two most powerful tools for gaining online exposure and authority in the online market. If you're considering selling your business but you know that this step is months away, it would be a good idea to start crafting quality content and post it on your blog and social media. This will show the online world and the potential buyers that your brand is investing in engagement and wants to bring quality information to its audience.
Content creation is a great way to market your business for sale directly as well, and craft blog posts and content that will appeal to the buyers. You can create optimized content for buyers around the world and educate them on your company and its values, your mission and objectives, and provide other information they might be interested in without revealing too much.
Leveraging real-time analytics
In the end, it's important to use the available digital marketing analytics tools to gauge the effectiveness of your strategy and adapt your approach. To achieve digital marketing success, you need constant monitoring and optimization to produce the best results, so you need to have the right information on hand at all times.
To do this, you should leverage your essential tools such as your Google Analytics dashboard and the built-in reporting features of any digital marketing tools you use. You will then be able to create comprehensive reports and see how your campaigns are performing when it comes to brand visibility, engagement, social proof, and buyer lead generation.
After that, simply tweak your approach based on the data to attract more buyers from around the world but also build up the value of your business.
Over to you
To sell your company to the highest possible bidder, you need to increase its value in the eyes of the potential buyers. One of the best ways to achieve that goal is to invest in digital marketing that will elevate your brand's visibility and authority in your industry, which will instill trust in buyers and customers alike.