Towing Business for Sale in Denver
Great growth opportunities into other markets
Opportunity to work from home
Established with the bones in place
Helping community members who are in distress
Operations

We are a 24/7 ROADSIDE ASSISTANCE Business that performs
*Tire changes
*Fuel deliveries
*Jumpstarts
*Lockouts

to our stranded motorists in need. We receive our services from the insurance companies we have contracts with and retail sales through google. There is already a dispatch team set up that accepts all services and incoming phone calls. We have drivers in place that go out and perform the above four services to our stranded motorists. With our dispatch team and drivers in place all someone needs to do is micromanage the system when needed, pay accordingly every Thursday and send out invoices before the end of Sunday of every week to our insurance companies.

Customers

About 85% of our customers are through the insurance companies we provide services for. The remaining 15% are from our retail sales, which can rapidly grow more with the correct person who knows how to retail through google and other services.

Financials

We are constantly busy and keep growing. During Covid we had a small decline but as an essential service we were still open. Our busiest times are during the winter seasons with amazing profit but can be overwhelming some days.

Additional Notes

We have been open for almost 5 years and created a strong reputation with the insurance companies. Receiving the ACE tow award for the top 1% in the tow industry every year, which is an amazing achievement.

Almost 5 years in buisness we are a trusted provider and have earned the top 1% in excellence in the towing industry every single year. With this great accomplishment we are offered other cities to take over, this than can lead to future growth and is a great opportunity for the right person to take over this buisness.
Asking price
Just opened up a Market in Salt Lake City, UT that will bring in more profit and growth for this company within the next few months.
Key financial facts and forecast
We have two employees and 15-20 contractors with this buisness. Throughout the last 5 years our company has experienced a great amount of growth. With the great opportunities of opening up other markets there is a great amount of profit to be made with this buisness.
Pictured above: Profit Forecast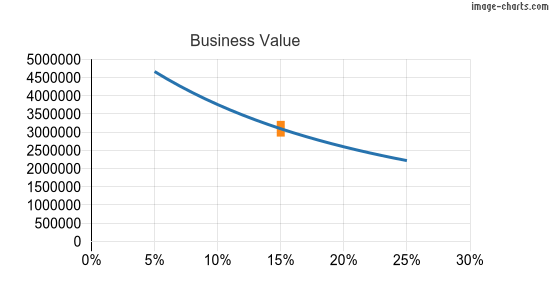 Pictured above: Business Value graphed against Cost of Equity
Reason for selling
I have enjoyed this line of buisness and I am expanding into a different venture.
Required buyer qualifications
Available finances and to sign the NDA form in order for me to send out my P&L statements and any other information you need to make your decision.
Category: Business | Towing
Updated on


Located in Denver, Colorado, US