Audio Video Business for Sale in Monroe
Temporary Technology, Inc. (TTI) is a solution-focused company that provides the short-term rental of audio visual and computer equipment, along with technical expertise, to support client events. The company offers daily & weekly "full service" rentals of Audio Visual sound and presentation equipment, including sound systems, projectors, screens and LED HD displays, as well as desktop and notebook computer systems and peripherals. Rentals from TTI usually include delivery, set-up, installation and 24 hour / 7 day on-site service & maintenance with dismantle / pick up at the end of the rental.

Temporary Technology provides professional audio visual and computer rental services to the corporate, educational, government and convention & trade show markets. The company services clients throughout the Midwest including Ohio, Kentucky, Indiana and the five neighboring states.
While Temporary Technology will travel anywhere in the United States for the right sized job, its primary focus is within a four-hour drive from its office / warehouse north of Cincinnati.

Temporary Technology provides just about anything "tech" that its clients may need for a successful meeting or event. Their rental inventory includes a wide variety of powered speakers, high quality UHF wireless microphones, wired Push To Talk goose-neck microphones, various sizes of digital & analog mixing consoles, HD projectors with a variety of lens options, seven different sizes of projector screens that can be projected on from the front and the rear, video switchers, video splitters and distribution amplifiers, high quality velour drape, LED stage lights, LED HD displays from 22" to 80", interactive touch screen kiosks, laptop and desktop PCs, a variety of printers and copiers, cell phone charging stations, flip charts, dry erase boards and much more.

Temporary Technology...... It's what we do!

Type of business: audio video, staging
Let's face it; anyone with money can purchase technology equipment. But that doesn't mean they will provide high quality service and equipment that supports and enhances client events. The coolest new gadget is worthless if the message is not heard, or the visuals not seen. The staff at Temporary Technology knows if the technology fails, the entire event can go up in smoke. And that is why the company's primary focus is on the "people" behind the gear.

The management of Temporary Technology is extremely careful when recruiting and hiring new technicians. TTI management knows that it can train a new employee to operate its rental inventory. But personality is God-given and cannot be trained. Common Sense is usually learned at a young age (or not learned at all). TTI management goes to great lengths to find people with a strong work ethic; people who can think on their feet and will be a "good fit" with the company's core beliefs and values.

The company uses the "Golden Rule" as it's guiding principle. Every member of the Temporary Technology team is taught to follows three basic rules:
1. Do your best.
2. Do what is right.
3. Treat other people the way you want to be treated.

And the company has identified five steps that are critical to its success:
1. Find good customers.
2. Maintain & expand customer base through relationship development by understanding,
managing and exceeding customer expectations.
3. Provide outstanding service at a fair market price.
4. Control & manage the costs of doing business.
5. Use profits to improve efforts in steps 1 & 2 above, and to reward the company's hard working
staff members.

Temporary Technology understands that price is often critical. The "real world" does have budgets; and TTI is very competitive. In fact, Temporary Technology's total cost is often lower than other rental companies, and Temporary Technology's service will surpass expectations.

Most of all, Temporary Technology understands that if their part fails, the entire event can fail. That pressure is how they have made a living for over three decades.

The company has rebounded significantly from the Pandemic. And if you do your research you will find that Temporary Technology is priced well below its actual value, making it one of the best deals on this (or any other) website.

A few of the most impressive facts to consider when evaluating this opportunity include:

• In 2021 TTI has already worked with 15 of its top 20 clients from 2019, who were responsible
for 78% of its 2019 revenue. Two other top 20 accounts are planning to work with TTI in 2022.
• The current value of the inventory is worth more than the price of buying the entire company
• The profit from last month alone is equal to 1/3 of the price of buying the company
• The two largest trade shows that TTI has done during each of the last 20 years produce more
gross revenue than the price of buying the company

Temporary Technology dramatically reduced expenses while corona-virus restrictions were in place, which enabled it to be profitable during each of the last seven months. As a result, the management of TTI has turned the Company into a very viable "home based" business for someone with 500 square feet of storage space. If a buyer does not require health insurance, or a storage locker, their monthly "fixed" costs to operate this company today are less than $715.

Temporary Technology's gross revenues for September of 2021 were just under $32,000, with a profit margin of more than 50%. If a new owner simply booked all the jobs that are requested by the Company's repeat loyal clientele, and does not make any attempt to capture new clients, they will book $200,000 to $250,000 in 2022, which is four to five times the purchase price! The return on investment for this company is unmatched!

Asking price
Temporary Technology engaged the services of a Professional Business Broker to take the company to market during the 4th quarter of 2019. The asking price that was calculated by the broker in 2019 was $300,000. But due to the reduction in revenues caused by the corona-virus lock-downs, the decision was made to take the company off the market in March of 2020.

Temporary Technology still has the same capability / capacity it had in 2019. And during the last seven months, the company has built its revenues back to levels that are very close to 2019, but now include even higher profit margins. Based on a number of key indicators, Temporary Technology anticipates monthly revenues during 2022 to consistently meet or exceed pre corona-virus revenue levels. However, since the valuation of a small business places so much emphasis on sales and profits from the two or three most recent years, Temporary Technology's current asking price has been dramatically reduced from 2019. Whoever buys this company in Q4 of 2021 will be grateful for having been in the right place at the right time.

A few of the most impressive facts to consider when evaluating this opportunity include:

• In 2021, TTI has already worked with 15 of its top 20 clients from 2019, and two other top 20
clients said they plan to work with TTI in 2022. These 17 clients were responsible for 78% of
the company's 2019 (pre corona-virus) revenue (over $235K).
• The current value of the inventory is worth more than the price of buying the entire company
• The profit from September 2021 is equal to 1/3 of the current asking price of the company
• The two largest trade shows that Temporary Technology has done during each of the last 20
years produce more gross revenue than the current asking price of the company

Combine these facts with the extremely low monthly fixed costs to operate the company (about $700), and it is hard to imagine a better or safer business opportunity with the potential for a quick return on investment and explosive long term growth.

Owner financing
n/a
Key financial facts and forecast
The reduction in revenues experienced during the pandemic, (from April 2020 thru February 2021), created a major "gap" (or outlier) in the company's three year financial snapshot. And while Temporary Technology's financial statements have gained strength between March 2021 to present, the gross sales per month are still slightly lower than they were during the same months in 2019. However, since the company's expenses have been reduced so dramatically during the last 18 months, profits can be earned very easily at lower levels of revenue. As a result, Temporary Technology is currently experiencing significant profits during months that would have been considered "below average" in 2019. For instance, in September of 2021 Temporary Technology's gross revenue was just under $32,000, but it's profit was over $17,000! And it is encouraging to note that revenues for September 2021 exceeded the company's 2019 monthly average, which provides additional evidence of the company's (and industry's) return to pre corona-virus revenue levels. Unfortunately, this information could not be used in Exitadviser's automated system.

THE FINANCIAL INFORMATION WRITTEN IN THE BODY OF THIS DOCUMENT IS MORE ACCURATE THAN ANY CHARTS, GRAPHS OR SPREADSHEETS AUTO GENERATED BY EXITADVISOR.

While the current owner of Temporary Technology will share accurate and extensive financial data with any potential buyer after a non-disclosure agreement is signed, the financial strength of this company has less of an impact than it would under normal circumstances. This will be a very simple and unique transaction; as there are no buildings to buy or leases to assume. In fact, none of the company's current expenses need to be assumed by the new owner, although it would be wise to take over the $15 per month fee for the phone number and the $50 monthly fee for the website / e-mail service. But the new owner of Temporary Technology will not be shackled by any debts or expenses incurred by the current owner of the company.

The current owner of Temporary Technology is confident that a new owner who works hard and follows a business plan similar to the one the company has used during the last several years, will enjoy gross revenues of at least $250,000 during 2022 and $325,000 in 2023, at a profit margin of 25% or higher. And with a little extra effort applied toward sales and marketing, this forecast can easily be exceeded.

Naturally, a higher level of revenue might require that some of the future profits are invested in expanding the inventory, staff, storage space and delivery fleet. But assuming these forecasts are accurate, any additional money that is invested in the company in 2023 will be quickly recaptured via growth and future earnings.

With so many variables in play, including the amount of expenses that will be incurred by the new owner, and their willingness to aggressively grow the business, it is difficult for the current owner to create a realistic three or four year income statement forecast. As such, the current owner is willing to assist any interested party with creating a detailed forecast that includes input from the prospective buyer.

• Please note that the marketing strategies listed elsewhere in this document," which have not be used by Temporary Technology for several years, were successfully implemented by Temporary Technology and several other companies in the technology rental industry over the past decade. These ideas and suggestions were not found in a marketing book and included in this plan in the "hope" that they might help increase sales or make this offer look better. Temporary Technology used most of these marketing methods from 1999 through 2008 to help it maintain an annual average revenue of $1,022,300 during that ten-year period. The formula for business growth in the technology rental industry outlined above is proven, realistic and relatively simple. And most of the ideas are inexpensive to implement. Temporary Technology has done it before, and with the right kind of leadership, can definitely do it again in the future!

Temporary Technology enjoyed over a decade of revenues that exceeded $1MM during the past 25 years, and there is absolutely no reason that a new owner with the right motivation can't meet or exceed those revenue levels within 4 or 5 years. It has been done before, and therefore, can be done again.

From an economics 101 perspective of buying low and selling high, now is the best possible time to buy Temporary Technology!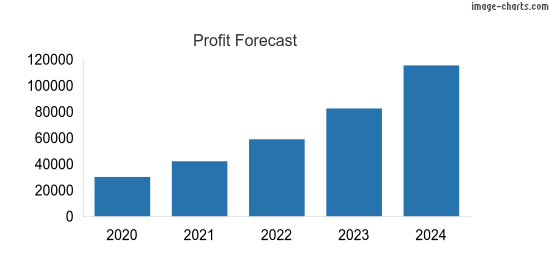 Pictured above: Profit Forecast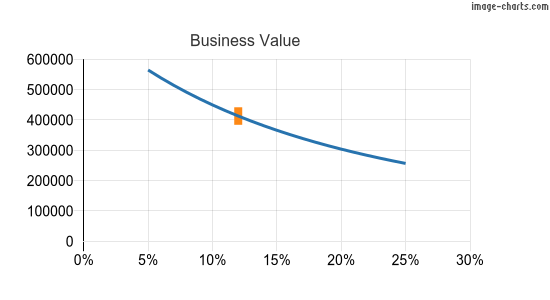 Pictured above: Business Value graphed against Cost of Equity
Reason for selling
The President and founder of Temporary Technology (and its predecessor PCR) has owned and operated the business since 1986. He actually had the company on the market in late 2019, but had to postpone the sale during the heart of the pandemic. The current owner will turn 60 years old this year and wants to start spending more time with his wife, kids, and three young grandsons (who keep he and his wife very busy).
Required buyer qualifications
The primary qualification / requirement for buying this Company is having the ability to pay for it in full, before the end of the year, with funds secured by the buyer.

It would be helpful, although not required, for the buyer to have an interest in presentation & sound equipment used at live events. In addition, an owner operator of this business would benefit by having some soft selling skills, a basic knowledge of bookkeeping & accounting, and some operations management experience.
Category: Business | Audio video
Updated on


Located in Monroe, Ohio, US