Restaurant for Sale in Traverse City
Charming family restaurant in business for over 20 years is well loved by the community and the tourists alike. It is located on a busy thoroughfare that affords high visibility for the business. The restaurant is known for its stellar breakfast and lunch menu. There is an adjoining retail space, which provides additional revenue streams and is useful in keeping people busy and spending while waiting for a table at peak hours. Remodeled and updated in 2019, there is outdoor seating on a pleasant patio. The greater Traverse City area is highly rated as a year-round tourist destination in the USA, offering summer and winter activities.
The restaurant has an established brand well known throughout the Midwest region and other parts of the country. It has been profitable year after year including 2020 despite COVID-19 restrictions and lockdowns.
Asking price
Price includes real estate, turn key business all trade fixtures, web sites and associated domain(s) as well as ecommerce business.
Owner financing
Owner/seller financing is available.
Owner may be willing to offer short term owner financing to well qualified buyer. Contact us for terms
Key financial facts and forecast
Financial statements available with signed NDA. Full financials to be provided with signed offer during due diligence. Prior Phase I Environmental study also available.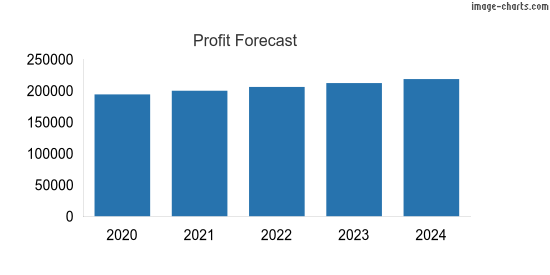 Pictured above: Profit Forecast
Pictured above: Business Value graphed against Cost of Equity
Reason for selling
Retirement
Required buyer qualifications
Buyers should be financially qualified as well as have some retail/management experience
Category: Business | Restaurant
Updated:


Located in Traverse City, Michigan, US