Food Products Business for Sale in Miami
We traveled the world and discovered, bottled, and sell the finest Balsamic Vinegar and Extra Virgin Olive Oil Collection that you can find in an affordable price.
We sell our products on:
Amazon Marketplace using Fulfilment by Amazon(FBA Business)
Walmart Marketplace using Deliverr.com as a fulfilment partner
eBay Marketplace using Deliverr.com as a fulfilment partner

We own a trademark for our brand name and are participating in Amazon's Registry program. This is a growing FBA business. In 2020, we more than doubled last year's turnover. We have 20 individual products and 12 bundles. We have a large diversity of sales that add more stability and prospective for the business' future.
In addition, this is a fully remote non-touch product business, with the packaging being completed by the supplier and sent directly to the marketplace.
The buyer will spend minimum hours per week for work, with no fixed expenses such as rent, employees, or equipment.

12 out of 20 products are new and as they become more established to the consumer, will have a big role in growing the company's business even more.

6 of our 8 older are more established products, which are responsible for 70% of our yearly turnover, have a 4.7-star review rate (4.5/5 full yellow stars on Amazon) and are very close (need five or six 5-star reviews) to reaching a 4.8-star rating, at which point, the products will have the full 5 yellow stars on Amazon.


Finally, we have a new and approved seller account in the Walmart marketplace with the same 20 products available for sale. This is a large opportunity for annual sales growth since the Walmart marketplace just recently opened to outside sellers.


Asking price
In 2020, our total sales more than doubled, compared to 2019.

We have an FBA business that offers Aged Balsamic Vinegar and Extra Virgin Olive Oil under our Brand. Currently, this business is making, on average, $10,400 sales/month.
That turnover per month is based on only 7-8 products on Amazon but we have already brought another 12 new products that are also available on Amazon now.

Furthermore, our business is approved to sell on the Walmart marketplace as well. This is a huge market to achieve sales at least as much as the current Amazon sales.
We also have an ebay.com account, and our website.

The current earnings of the company are largely coming from Amazon sales, however, the many additional marketplaces we are participating in have a huge potential for brand development and growth, and can lead to a sizeable additional income, in addition to the growing Amazon sales.

On Amazon, we have a trademarked brand as well as being members of the Amazon Registry. We have started participating in the Amazon Video Ads program with around 20 videos. We have helped almost all of our new products gain reviews by participating in the Amazon Vine program. Our Amazon website and the EBC+ content are also ready and available.
Most of our products appear on the first page of results for top keywords in our product categories.

Based on the current sales per year we made $125,000, but this amount will be at least 2-3x for someone that will spend a few months developing the exposure and sales of the 12 new products on Amazon as well as Walmart and the other marketplaces.

In conclusion, there is a lot of potential for growth and expansion in the company which we have not taken advantage of yet, which also does not appear in the current monthly sales.

All the additional products are ready and with this growth trend, this brand could make sales for $300,000 - $400,000 next year. I would also like to add that I would be willing to help run this business as an employee of the new owner with a fair salary to help achieve a smooth transfer. This way, the new owner will buy the business with an experienced person in charge, so he/she will not need to spend additional hours per week to both learn the business and increase the sales.
Key financial facts and forecast
Since we are a trademarked brand, we have also been approved to develop our own website within Amazon.

12 out of our 20 products are new and are only at the beginning of their sales exposure. Thus, there is a huge chance the company's turnover will double within the next year on Amazon, once these new products become more well-known to the customer.

If the new Walmart marketplace is also taken into consideration, which is significantly less competitive than the Amazon marketplace, then the company's sales could easily increase by $60,000 solely from the Walmart marketplace, which is half of the Amazon 2020 turnover.

All 20 of our products are already on the Walmart marketplace and with the help of our fulfilment partner, Deliverr.com, our products are eligible to participate in the Walmart 2-day delivery program giving our products a significant advantage and increased exposure over the competition.

After next year, between the years 2022-2025, the buyer can maintain a growing business trend based on the development and daily optimization of Amazon and Walmart Ads as well as the development of Facebook Ads and social media pages and promotions.

The new buyer can also import new products to the existing team of products to generate more sales. Our existing suppliers already have more products available which the buyer can try and expand the company's collection, if they wish to do so.
Pictured above: Profit Forecast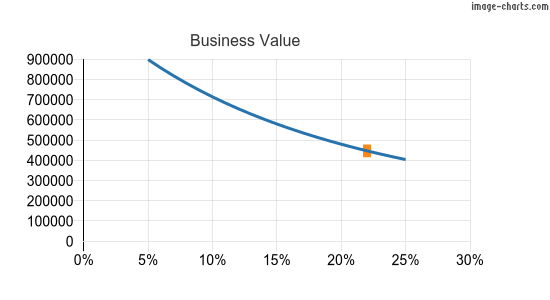 Pictured above: Business Value graphed against Cost of Equity
Reason for selling
Interested in starting a new business within a different sector. I have found an opportunity that can't wait for a long time. I can't run those businesses together, so I decided to sell the existing one. This business will continue to grow and it is ready to soar. It needs someone to seize this opportunity and make a lot of money. Are you the right person?
Required buyer qualifications
We would like to receive 100% of the payment at the transfer of our
business to the buyer.
We do not have any special requirement, as if the candidates are experienced
or not on how to run an FBA Business.
We will do our best to transfer our business safely and educate the buyer
on everything they need to know on how to run an FBA business.


Category: Business | Food products
Updated:


Located in Miami, Florida, US