Japanese Restaurant for Sale in San Diego
Full service sushi restauant
Type of business: japanese restaurant, restaurant
The restaurant has been open for almost 20 years and has a massive local following. This restaurant is in a prime tourist location and is consistently busy through out the year, not a seasonal business.

- Long term established concept founded 19 years ago.
- Steady history of sales with impressive cash flow.
- Existing restaurant is well maintained, equipped with modern décor, and include beer & wine licenses with no restrictions.
- Simple business model can be easily replicated in a wide variety of trade areas.
- Unique restaurant locations vary between historic and emerging coastal communities.
- Limited competition for this particular cuisine in surrounding areas at both locations.
- Nearly $2.3M in collective gross revenues and approximately $515,000 in cash flow.
Owner financing
Owner/seller financing is available.
Key financial facts and forecast
We have seen growth year over year and our profitability is high according to industry standards.
Pictured above: Profit Forecast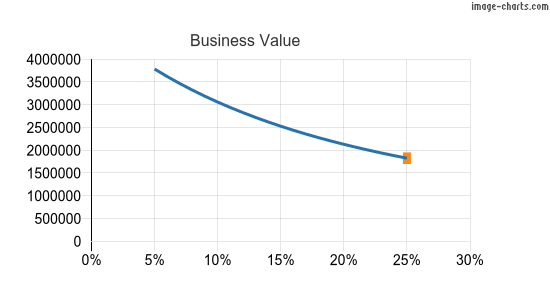 Pictured above: Business Value graphed against Cost of Equity
Reason for selling
Life style change/retire
Required buyer qualifications
Must qualify with our chosen SBA lender
Category: Business | Japanese restaurant
Updated on


Located in San Diego, California, US