Limo Service Business for Sale in Fort Myers
Ambassador Transportation is the highest rated chauffeured car and van service in Southwest Florida. We have over 6,000 regular and repeat customers, some who use us as often as twice a week. The majority of our trips, about 80%, are from the Naples area to the RSW Airport, followed by trips to Southeast Florida, including MIA, FLL and both Cruise Ports (Port of Miami & Port Everglades), private charter to places like South Beach and to sporting events, such as Bowl games and Dolphin's games. Our business is Internet-based, so it can be run from any location that has Internet and/or cellphone service, though we currently operate it from our residence (in Ft Myers, minutes from RSW).

We have three mobile friendly websites that drive traffic to our business. Established in 2011, we have long tenured drivers that operate meticulously maintained, company owned vehicles. We operate TEN vehicles, including FOUR Mercedes Vans, 13-passenger and 12-passenger Sprinter Vans, as well as two 8-passenger, Metris vans, that accommodate larger groups. We are known to have the cleanest and best-maintained vehicles in Southwest Florida.

The business a very simple business to own and operate, with no particular previous experience necessary. It can pay for itself, in Owner Benefits, to owner-drivers, in as little as 1.5-2 years. We currently operate the business from our home, which is located just 12 miles from RSW, using a permitted office space. Because we're Internet and cellphone based, we are not location-dependent, and the business can be operated from anywhere. The Business is easily scalable to fit the business objectives of the owners.

Ambassador Transportation was purposely set up to be able to operate from both computers in our office and also via cell phone. Both systems are automatically synced every few minutes. The data for the entire company is securely located in a cloud on the internet. The owner can view the entire calendar history of the company and the entire database of customers on their computer or cell phone as well as all email correspondence and internet based reservations. Our customers can reserve our services via phone, email and also the online reservation system. If need be the company can be run entirely off cell phones which actually happened during and after Hurricane Irma when all power was lost for several days.

Our eight drivers are known to be the best in the area! They dress in business attire in long-sleeved dress shirts, dress pants and ties. Our drivers are ON-time, dependable, friendly, helpful and knowledgeable about SW Florida! The drivers dispense complimentary cold-bottled water and sugar-free gum to our customers! Nearly all of our drivers have worked for us for 5 years or more, and are longtime residents of the area with lots of local knowledge. Each driver is paid to their respective LLC/corporation, which eliminates any tax liability to our company.

All or our drivers all have "Hack Licenses" insuring to customers that they've been thoroughly background checked and vetted. We have been the least affected by the ride sharing companies, such as UBER & Lyft, as our customer base is not price sensitive and use us due to our
superior service.

We have two part time office staff who answer the phones, process reservation requests, process credit card charges and communicate with our customers and drivers via phone, text and internet.

Our system has three levels of confirmation with each customer. One confirms the appointment when booked, the second confirms the details and pickup time two days before the pick up. The third is a call from the driver the day before the trip to also confirm details of the time and place and destination.

If the owner also chooses to also be a driver, there are opportunities for income that are not included in the financial results that are presented.

Asking price
The price includes non vehicle assets of approximately $20,000. The Vehicles are not included in the sale price but may be separately purchased individually or as a group.
Key financial facts and forecast
Our financial position is the most sound of any in the area, that that we have NO debt service and keep our costs low by operating out of our residence and doubling as owner-drivers. We have the nicest and newest vehicles, which SAVES money, increases our reliability and minimizes any potential self-imposed drama, such as that experienced by the typical competitor with old, beat-up vehicles that are constantly breaking down. We also have ZERO liability for problems with the IRS by virtue of paying our drivers' LLCs/Corporations, not them directly. We have gone out of our way to try not to grow, so we could focus our efforts on continued gains in profitability and upgrading our Fleet, to newer and nicer vehicles, including an All Mercedes Fleet of Vans and more than half of our vehicles are Mercedes, not for the "vanity factor", though it's a big "plus" in Naples, but because they last longer and are less expensive (in the long run) to operate. There are substantial financial opportunities for the owners that offer income that is not reflected in the financial results provided, particularly for owner-drivers.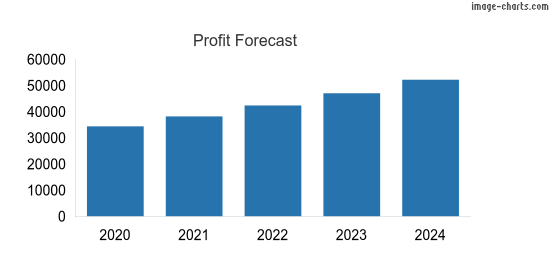 Pictured above: Profit Forecast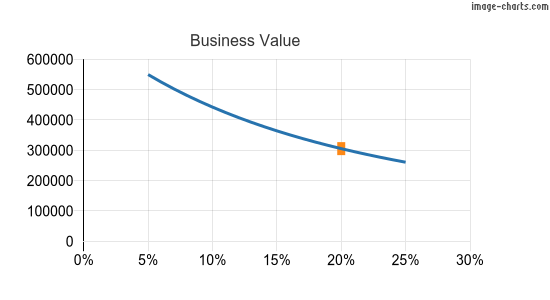 Pictured above: Business Value graphed against Cost of Equity
Reason for selling
The owners are interested in retiring and relocating to North Central Florida, where they presently own a vacation home. We wouldn't even consider selling the business if we planned staying in the area.
Required buyer qualifications
The new owners will most likely want to participate in driving many of the routes. The successful owner will need to pay at least the majority of the purchase price in cash and have the ability to purchase the vehicles that they want to use for ongoing operations.
Category: Business | Limo service
Updated:


Located in Fort Myers, Florida, US