Amazon FBA Business for Sale in Miami
Extremely profitable FBA/Amazon Merchant/Retail/Wholesale Manufacturing of Hat Shapers & Baseball Caps Crown Inserts Company, for domestic and international sales. Since the business's main income is through online sales, no revenue has been affected by the Coronavirus. On the contrary, if anything, it has increased sales (Amazon FBA and Merchant Sale). We are looking for someone capable of organizing a team to handle and manage the potential volume of future orders! We carry unique and exclusively branded GS1 UPC Barcodes (Universal Product Code/European Article Number Barcodes) products that have been escalating profits every year since 2012. Well established & recognized company in the online/offline community. The company currently has strong brand awareness and a loyal customer base establishment while having control over its own inventory with unlimited marketing potential growth as it can be seen by the organic search chart below. See Google Analytics' graphs below.

We have A LOT to offer, we exclusively manufacture and sell several different colors of Hat Shapers and Baseball Caps Crown Inserts as well as cardboard hat crown inserts ans Novelty Caps Inserts of all types.* With new innovative products coming soon! To learn more about the benefits and features of our Hat Shapers/Inserts please visit our website: https://shapersimage.com/features-and-benefits.html We also exclusively carry the #1 Team Sports Hat Brim Insert and the #1 Fan Sports Brim Insert for the sports enthusiast not yet on the market

This is an opportunity of a life time for the right investor! As Founder and business owner I'm interested solely in the right buyer seeking to scale the business even further by marketing on radio, retail stores, TV (as seen on TV), online blog platforms, social media, online videos, market influencers, franchise stores and more!

Note: The new business owner will need to have knowledge regarding e-commerce stores (online stores), particularly Amazon marketplace and will also need to relocate business assets.

Type of business: amazon fba, amazon
Shapers Image® LLC has shown an excellent track record of good yearly profitability and the business is debt free. Rewarding growth potential is expected to continue, also new branded products are expected to enter into new marketplaces and continue growing consumer interest domestically and internationally. After proper training (a week or two) This business day-to-day operations can easily be transitioned from seller to new owner (fairly independent from the owner).

The list is endless when it comes to marketing our product line. Shapers Image® lucrative rewarding products are unique to the industry with little (if any) competition. From what we have observed, it is the first of its kind in the world. Our target audiences are adults, men and women, retirees, teens and the millions of hat wearer around the world! The potential for excessive grown is real, we are confident in knowing that we haven't scratch the surface in regards to sales of our baseball caps crown inserts and hat shapers. We are interested in a business individual/s that would not only continue the growth online but concentrate on office sales as well. **

**The hat and caps industry expects an historical and forecast growth. According to Statista: "The hat and cap stores industry has grown over the past five years, industry operators have benefited from rising consumer confidence over the five years to 2018, which has revived spending on hats and caps. These small-ticket items are favored by Generation Y or millennial shoppers (typically those born in the 1980s and 1990s). Ultimately, this demographic group has spurred revenue growth for the industry in recent years. As the demographic increasingly enters the workforce and its purchasing power increases, demand for industry products are expected to continue growing" (See chart below).

Motivational key facts to consider upon investing in Shaper Image® LLC (or any business)

• Over the past 8 years, Shapers Image® has shown sales revenues consistently increasing. For the past 6 years, 35% - 40% yearly increases are available to view (after signed NDA and a letter of intent to purchase).
• Business processes and production can easily be transitioned once locally established.
• Shapers Image® business has a strong online presence, including a strong standing in search results (with little if any digital marketing or any social media advertisements) and with favorable online reviews and ratings.
• We will be willing to continue to provide support as a consultant and willing to provide new ideas after the departure from the business and remain involved, assuring business growth continues.
• The Shapers Image® brand has a long-standing and loyal clientele and we maintain a customer database that a new owner can rely upon.
• The costs and operating expenses increased very little at a rate consistent with revenue increases. Yearly profits continue to rise.
• Free of business liabilities/debt.
• Company has received special invites to display products on their website, such as Wal-mart.ca, and Rakuten fulfillment centers.
• Business can easily cover its costs and expenses from sales revenue.
• Business offers products that are distinct and superior to those of our competitors (If any).
• Shapers Image® business uses a proprietary production or business process that serves as a barrier to competitors (artist design).
• Our production delivery process is one that a new owner can easily adopt and carry on.
• Our production and operation processes are detailed in an Excel manual or other documentation.
• Shapers Image® LLC business does not rely solely on local or regional clientele, but instead distributes/ships worldwide. Nonetheless, business can be located in a region with a strong and growing employee population (with growth).
• No building/warehouse transferable lease involved.
• There is no business equipment lease.
• The business does not have strong and effective marketing tools, the growth has mostly been organic, and so the potential for growth is real!

Asking price
Before viewing any Shapers Image® LLC products and procedures buyer must show proof of available funds either by providing a voided check, most recent bank statement, or loan approved bank letter. Will consider residential property/vacant land in the Miami-dade area part of payment.
Owner financing
Owner/seller financing is available.
70% cash 30% financing with 4% interest rate
Key financial facts and forecast
All current Business assets are free and clear with no financial liabilities. Revenue has been showing strong increase month over month, year over year (35%-45% increase) with no advertising adjustments. The expenses or costs are staying flat or even decrease drastically. Operating expense ratio is very low.
.
Pictured above: Profit Forecast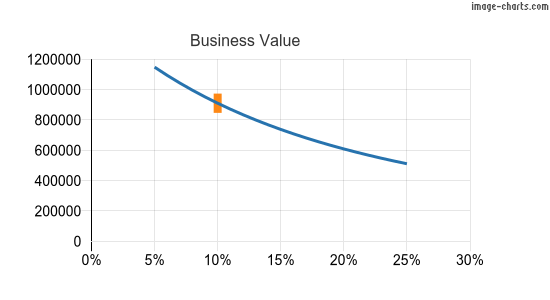 Pictured above: Business Value graphed against Cost of Equity
Reason for selling
Business is outperforming the owner and can't expand the business to its full potential, for the reason that owner has a debilitating medical crisis with a loved one. Also, he's thinking about retirement. All assets including inventory will be turned over to buyer. Although most sales originate from online channels e.g. Amazon, eBay, the new business owner will need to relocate business!
Required buyer qualifications
Prefer buyer with present own retail business or prior experience with retail sales also experience on selling online e.g. Amazon and eBay are also very helpful. Continuous training will be available after the sales. New owner is to arrange delivery transportation of equipment's and inventories to new business location.
Category: Business | Amazon FBA
Updated on


Located in Miami, Florida, US