Music School for Sale in New York
Music school catering to busy adults in midtown Manhattan. Lessons are taught in a low-stress format, meeting once a week for a half-hour or full-hour lesson, and follow a program developed by Guitar Cities based on their experiences as instructors and their careers as touring and recording professionals. Lessons are catered to the individual needs and goals of every individual student. Students also have the opportunity to apply their instruction by writing and recording their own songs on professional studio equipment.
Unique and profitable music school catering to busy professionals in midtown Manhattan. A great location with low overhead with access to a million people, this exceptional opportunity has all the infrastructure and musical talent in place for continued growth and profit. The business includes an online scheduling website and payment system; instruments and recording equipment; back office support personnel; and a client database with hundreds of names. The school has been in business for over 8 years and has had the same professional musical instructors the entire time. The instructors are paid a percentage of the fee charged to the customer so there are no wasted direct labor costs.
Asking price
The current owner desires to stay involved with the business and help the new owners achieve greater profitability and growth. The current owner will present a clearly defined role for a percentage of revenue and term in addition to the sales price.
Key financial facts and forecast
Low overhead in a busy section of midtown Manhattan. Instructor musicians are paid a percentage of the fee charged to the customer. Scheduling a session is automated and so is payments. The school is operating at less than half capacity and has room for growth.
Pictured above: Profit Forecast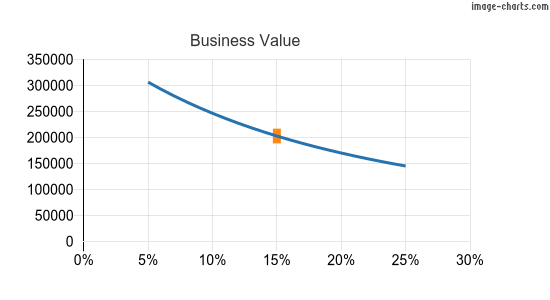 Pictured above: Business Value graphed against Cost of Equity
Reason for selling
The owner wants to ensure the success of the music school for the new owner and is willing to stay on in a clearly defined role over a specific period of time. Owner is a musician and has experience in producing professional commercials.
Required buyer qualifications
Potential owner should have previous business experience, funding in place and the love for music.
Category: Business | Music school
Updated:


Located in New York, New York, US