Painting Business for Sale in Littleton
Custom interior and exterior painting serving in the high end residential communities of the greater Denver metro area
A good opportunity to acquire a niche custom painting and specialty finishing company. Stable growth economy forecast.
Due to the location and type of projects being completed this company is accessible to nearby unique clientele. It takes years for a painter to get into the high end.
Asking price
We think this is a steal! Broker valuations are much higher but current owner is ready to move on. The current asking price is firm to cost of assets, stock transfer and client access
Owner financing
Owner/seller financing is available.
50% down payment
owner finance for remaining term with negotiated interest
Key financial facts and forecast
2018 was the 2nd highest grossing year on record with custom projects being estimated for the next few years. Potential gross income will increase with dual management and cash flow investment
Pictured above: Profit Forecast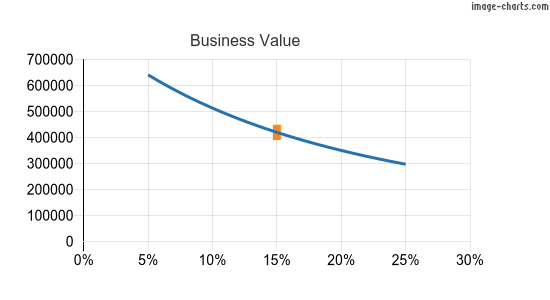 Pictured above: Business Value graphed against Cost of Equity
Reason for selling
Current owner has creative design and artistic strengths and now recognizes the need for assistance with the financial and operational side of a growing business. His future goals are also imperative but since he doesn't not plan to retire anytime soon plans to keep working to provide for his family
Required buyer qualifications
Buyer should have some experience with owning a business and have financial ability to provide the cash deposit request upon contract execution

Category: Business | Painting
Updated on


Located in Littleton, Colorado, US