Family Fun Center for Sale in Michigan
We are in the entertainment business. We provide a recreational setting that allows individuals, families, businesses and organizations to have fun. Our attractions include: Go-Karts, Miniature Golf, Bumper Boats, Lazer Tag, EuroBungy, Roller Coaster, Batting Cages and an outdoor Golf Driving Range. We specialize in birthday parties and group outings.
Type of business: family fun center, family entertainment, family fun park
This business has operated successfully for 21 years. There is virtually no similar competition within a 50 mile radius. Local competition includes Chuck E Cheese, SkyZone, a bowling alley and movie theaters, but nothing on the scale of our complete family entertainment center. The facility is clean and well maintained. Sales have exceeded $1 million per year since inception. The complex is housed mainly on 12 acres with the driving range adding an additional 16 acres. There is plenty of room for expansion. The business is accessed from a main arterial road that has approximately 25,000 cars per day. The foundation for a 34,600 square foot inflatable dome is in place, including blower system and furnace.
Pictured above: Profit Forecast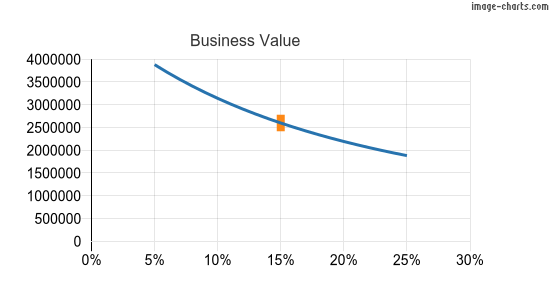 Pictured above: Business Value graphed against Cost of Equity
Reason for selling
I have reached retirement age and am currently drawing social security. I would like to fully retire and relocate to Florida.
Required buyer qualifications
Buyer must possess adequate financial means to finance the business purchase.
Category: Business | Family fun center
Updated on


Located in Michigan, US