Retail Business for Sale in Marin
This company is a tea retail and wholesale business selling top-quality organic teas to a rapidly growing customer base. Teas are being sourced from hand-selected growers from the leading tea production areas world-wide. Tea varietals include a large number of tea blends that are based on proprietary recipes and are blended in-house. Teas are sold through a well-located retail space that also houses the tea production facility. Wholesale customers include high-end restaurants, cafes, and leading health-food stores. The company owns a custom-designed, fully functional e-commerce internet site.
Type of business: retail, a shop, a store
This is a fantastic opportunity to get immediate access to the booming tea market in the San Francisco Bay Area and beyond. The company is unique in a variety of ways:

- premium-quality teas are sourced from hand-selected suppliers.
- proprietary, highly innovative tea blends.
- established and rapidly growing retail and wholesale customer base.
- excellent location.
- customized retail and tea production space ready for further expansion.

The company is perfectly set up for further development. Buyers will be able to leverage existing features to utilize the company's enormous potential by:

- adding a tea bar and/or tea service to the existing retail space to offer tea tastings and brewed teas.
- opening additional retail spaces / tea bars in area of high-demand for quality teas.
- continue expanding the whole-sale business by breaking deeper into the San Francisco Bay Area market with its rich repertory of high-end restaurants and boutique cafes.
- expand the e-commerce activities, thus reaching the entire U.S. and Canadian markets.

The current owned will be available to provide training to the buyer with respect to tea sourcing, blending, and marketing.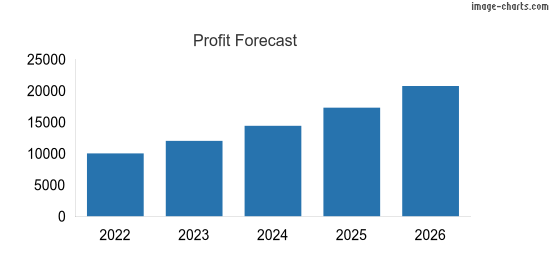 Pictured above: Profit Forecast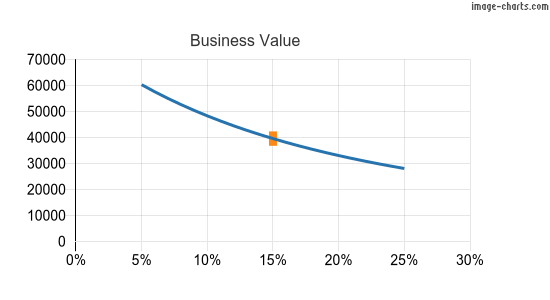 Pictured above: Business Value graphed against Cost of Equity
Reason for selling
Unfortunately, the founder and owner has been experiencing health challenges that prevent her/him from further developing the company.
Required buyer qualifications
Potential buyers are expected to share the passion for tea. Demonstration of sufficient financial resources is required.
Category: Business | Retail
Updated on


Located in Marin, California, US