Fast-track your business sale
Save on expensive broker fees by doing it yourself
Orchestrate your own business sale with ExitAdviser, the online support service that guides you through the selling process in a series of simple, easy-to-follow steps. Run your own, personalized Google Adwords online marketing campaign, implemented in minutes!
Designed by experienced Business Advisers, ExitAdviser provides a wealth of knowledge, intuitive online tools, expert articles, document templates and other resources that help to maximize your business sale value.
Using the latest cloud-based techniques you can progress your business sale actions through your smart phone or tablet whilst on the move.
Maximize your selling price with this one-stop-shop, online solution in four easy stages (see below).
Welcome aboard!
Access the tools, resources and knowledge you need to get the job done: Business Valuation Tool, Sale Memorandum Tool, Go-to Market Tool, Find a Lawyer Tool, Legal Document Templates, Knowledge pieces, The Scheduler, Actions Notepad, expert articles, and much more!
These Premium resources are provided, for as long as you need them, for a single one-off payment.
Key online Tools
Access the key online tools to value your business, produce a Sale Memorandum, set up your custom Landing Page and run your own advertising campaign on Google search network.
What is the value of your business? Make use of our business valuation tool to calculate your Asking Price. The tool uses Discounted Cash Flow, the generally accepted method for pricing businesses.
A Sale Memorandum is used by sellers to communicate key information about the business to prospective buyers. Use this tool as a checklist covering the main points.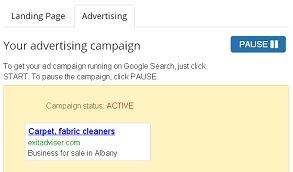 Get your business listing and Landing Page in front of thousands of potential buyers! When you're ready to go, it only takes a few clicks to get your targeted advertising campaign under way.
Benefits
Comprehensive, expert guidance helps you to avoid costly mistakes and minimize risks

Online tools to value your business, schedule your tasks, produce your Sale Memorandum and find a lawyer.

Plenty of guidance from lively Knowledge Pieces and subject Articles

Example legal document Templates to help move the sale forward

Set your business apart with your own Google Adwords marketing campaign

Click "Start" to immediately activate your online sale campaign

Use on the move through the cloud on smart phones and tablet devices

Secure, confidential cloud-based storage and access of your business information

Single one-off payment saves expensive broker fees and may qualify as a business expense
Tell us your story!
Already sold your business? Submit your own story and let other small business owners learn from your success, mistakes (if any) and valuable suggestions. Feel free to post your article with a link to your website or blog.
Testimonials
I spent a small fortune promoting my business in the Miami Herald. Coming across ExitAdviser's self-service was a good luck. I simply cannot believe how efficiently your Go-to Market tool helped me find a buyer.
I think we got 7-8 good leads in the very first week of advertising. Many thanks!
Jake H Conard, Former Construction Company Owner
I am so glad I signed up for ExitAdviser's "SOLO" service to sell my business. We just found a buyer last week. You can take down my Landing Page now.
Your service did an incredible job for me!
Sean Crosson, Former Hardware Store Owner
I absolutely loved using your online service! ExitAdviser is a must-have resource for anyone wanting to sell his/her small business!
Laura DePerrio, Former Dry Cleaning Company Owner
I want to thank you for this service. I had listed my carpet cleaners business couple of months ago and have closed the sale with the buyer coming through the Landing Page on your site. The buyer actually resides in another state and we never would have found him without ExitAdviser.
Lizzie Blygges, Former Carpet Cleaners Company Owner
I had no idea I could sell my business on the Web for such a low cost. Many thanks to ExitAdviser for helping me sell my company!
Bruno D, Former Online Media Business Owner