Selling Your Business
The Online Solution for a Small Business Sale
Executing Your Own Business Sale
Orchestrate your business sale with ExitAdviser, the online solution that guides you through the process in a series of simple, easy-to-follow steps.
Get your offer direct to market, in front of prospective buyers searching businesses like yours. Run your own, sharply targeted advertising campaign on Google Search, implemented in minutes.
Supported by experienced Business Brokers, ExitAdviser provides a comprehensive set of online tools, well structured how-to guides, legal forms and templates, access to near-by advisers, and last but not least, the industry's most efficient route to market.
ExitAdviser is the all-in-one, online service to support and execute your own business sale.
Joseph Blygges, a former small business owner from New York
---
Rethinking Sale by Owner

A robust FSBO-platform to prepare and promote your business for sale
---
Online productivity tools
Access the key online tools to value your business, produce a Sales Memorandum, set up your custom Landing Page and run your own advertising campaign on the Google search network.
What is the value of your business? Make use of our business valuation tool to calculate your Asking Price. The tool uses Discounted Cash Flow, the generally accepted method for pricing businesses.
A Sales Memorandum is used by sellers to communicate key information about the business to prospective buyers. Use this tool as a checklist covering the main points.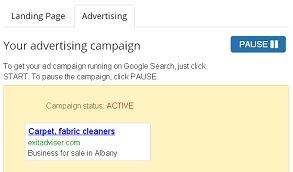 Get your Landing Page in front of potential buyers searching businesses like yours. When you're ready to go, it only takes a few clicks to get your targeted advertising campaign under way.
---
Your #1 alternative to
overcrowded business-for-sale marketplaces
Benefits over traditional sales methods
ExitAdviser provides you with the industry's most efficient FSBO (For Sale By Owner) platform to exit from your business successfully. Check the benefits below:
A well-structured, all-included 4-stage process to decide, prepare, promote and close your business deal for the highest possible value

Key online tools to Value your company, schedule the tasks, produce your Sales Memorandum and find a Lawyer.

Custom advertising platform to bypass overcrowded business-for-sale marketplaces by running your own advertising campaign on Google Search, direct to buyers

Example legal forms, Templates and checklists to help prepare to and move the selling process forward

Build your professional team by quickly locating advisers like Business Brokers, Appraisers, Tax Advisers, Accountants and Financial Advisers near you.

Plenty of guidance from lively How-to Guides and subject Articles to help you avoid costly mistakes and minimize risks

Secure, Microsoft Cloud-based application to manage your projects discreetly and confidentially

Use the ExitAdviser App on the move on smart phones and tablet devices

A single one-off payment that may qualify as a business expense
Skip the Middleman
Get Your Offer Direct to Market