Marketing Your Business for Sale
Orchestrating Your Own Business Sale
ExitAdviser is a comprehensive, end-to-end platform to plan, prepare and advertise a small business for sale. You will be provided with professional online tools, legal templates and checklists, access to advisers near you, and the industry's most efficient route-to-market framework.
Selling your business with ExitAdviser:
Joseph Blygges, a former small business owner
---
---
Sale of a Business Made Efficient
As featured on
More media and press mentions..
The Owner's Toolbox
Access key online tools to: Appraise your business, Publish a Sales Memorandum, Set up your sale listing and Landing Page, and Run your own advertising campaign on the Google search network.
What is the value of your business? Make use of ExitAdviser's Business Valuation Tool to calculate your Asking Price. The tool uses Discounted Cash Flow – the generally accepted method for pricing businesses.
A Sales Memorandum is used to communicate key information about the company to prospective buyers. Use this tool as a checklist to cover the main arguments and the value proposition.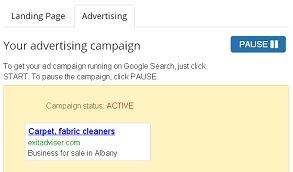 Get your Landing Page in front of potential buyers searching businesses for sale like yours. When you're ready to go, it only takes a few clicks to get your targeted advertising campaign under way.
---
Online Platform to Selling Businesses
ExitAdviser is a comprehensive platform – an end-to-end set of specialized tools, applications and services that is targeted at small business owners executing the sale of their business independently (FSBO – For Sale by Owner). The platform offers a robust, fast-track approach, and takes the owner through 4 easily manageable tracks to close the deal. Business Brokers and Intermediaries are provided with the BrokerBoard™ application to manage their customers' business-for-sale offerings.
Global Marketplace for Sellers and Buyers
ExitAdviser manages a global online Marketplace with tens of thousands companies listed for sale. Browse/search most recent sale listings posted by owners and brokers worldwide. Find and buy a profitable business near you.
How to Make it Happen
Selling a restaurant or a café is more complicated than selling a business in general. As the owner, you have to go through a time consuming process to come up with a good exit plan. Read more
Where to sell a small business in 2018? Which sites to consider for an online listing and what are the criteria to compare them? An overview of the top business for sale marketplace websites. Read more
Here's an insight into tax consequences when selling a business. Asset sale vs stock sale, capital gains tax explained. Learn how much tax you will pay when selling a sole proprietorship, partnership, LLC, or corporation. Read more
Read about and how to prepare a Sales Memorandum when selling your business. It finalizes your sale proposition, the key selling points, and drives the promotional messages used in your advertising. Read more
Selling a business? You mine as well go without a business broker and save time and money. Selling a company without a broker is reasonable, and not as hard as you might think. Read more
Transferring your business to a family member, to your son or daughter, requires planning and tax considerations. You must figure out what your retirement needs are and the benefits of either selling the business to a family member or giving it to them as a gift. Read more
As the seller you may want to draft your business lease agreement appropriately so that your buyer takes over all responsibility of the lease and that you do not. Tips for selling a business with a lease provided. Read more